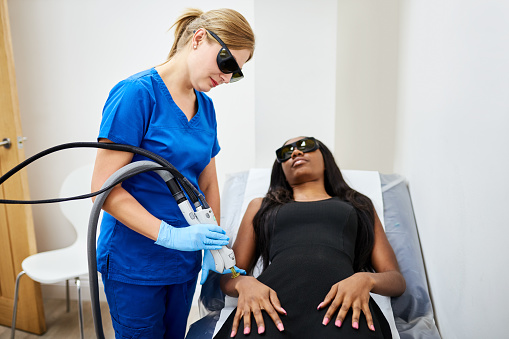 Laser hair removal may seem an intimidating procedure. For those with Black skin, it may seem especially intimidating, as the procedure was once considered unsafe due to the risk of scarring, burning, and hyperpigmentation.
But now, laser hair removal is safe and effective for Black skin.
Here's How Innovative Technology Made Laser Hair Removal for Black Skin Possible
Old lasers used for hair removal would target not just the hair follicle in the skin but also melanin. However, new  Laser allowed technicians to bypass the melanin and target the follicle. This makes the process safe for all skin colors.
And, There Are More Benefits of Laser Hair Removal for Black Skin Than Just Hair Reduction
Laser hair removal does not just remove unwanted hair. It can also treat razor bumps and abnormal pigmentation, such as hypopigmentation and hyperpigmentation.
How Do I Know That Laser Hair Removal Is Right for Me?
Modern advances in laser technology make laser hair removal safe for almost everyone. Some might worry about the possible side effects of laser hair removal. But, don't be afraid, as side effects are usually limited to temporary redness or swelling. Rare side effects include bruising or slight changes in skin tone. Almost all are minor and temporary.
Am I a Good Candidate for Laser Hair Removal for Black Skin?
Most people are! You're an ideal candidate if you have coarse or thick hair that is dark, though you may still qualify if you don't. To find out for sure, you need a consultation with a laser specialist.
Call us at 905-239-4124  to book a consultation today, and take the next step on your health and beauty journey with our laser experts!
Is laser hair removal safe for black skin?